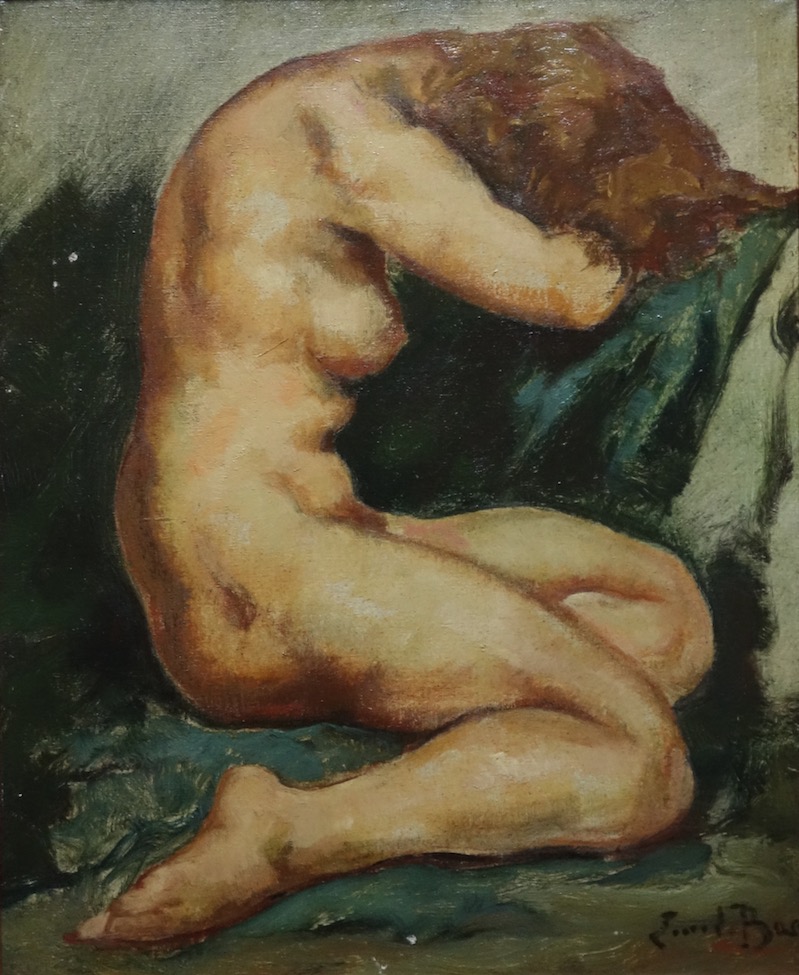 NU FEMININ – SOUS CADRE BOIS
PEINTURE HUILE SUR TOILE – GRAND FORMAT
DIMENSIONS TOILE / HAUTEUR 54,5 CM LARGEUR 44 CM
EN PARFAIT ETAT / IN PERFECT CONDITION
ENVOI A L'INTERNATIONAL / WORLDWIDE SHIPPING
Émile Baes,
né à Bruxelles le 12 novembre 1879, mort à Paris en 1954,
artiste peintre, graveur, critique d'art et écrivain belge.
Après avoir été formé dans sa ville natale, il devient l'élève de Joseph Stallaert (1823 – 1903) à l'Académie des Beaux-Arts de Bruxelles, il suivit également l'enseignement d'Alexandre Cabanel (1823 – 1889), représentant de l'Art Pompier sous Napoléon III, et de Léon Bonnat (1833 – 1922) à Paris. Il exposa au Salon de Bruxelles en 1903-1904, au Salon d'Automne à Paris, de 1928 à 1933, au Salon des Artistes Français, entre 1929 et 1938, au Salon des Tuileries, de 1933 à 1939.
Émile Baes,
Belgian painter and writer – Brussels 1879 – 1954 Paris
Pupil of the Belgian painter Joseph Stallaert (1823 – 1903) at the Academy of Brussels. Pupil in Paris of Alexandre Cabanel (1823 – 1889) and of Léon Bonnat (1833 – 1922).
Cabanel is the best-known representative of the official, extremely sterile and academic French art of painting ("l'art pompier") under Napoleon III, whose favourite painter he was. When he and Bouguereau refused the participation at the Paris Salon of 1863 of an important number of painters this triggered the creation of the Salon des Refusés (of the rejected ones), marking the birth of avant-garde, and thus of Impressionism.
Léon Bonnat worked in the academic tradition of naturalism, as an energetic portrait painter. Among his pupils rank Edvard Munch, Gustave Caillebotte, John Singer Sargent, Henri de Toulouse-Lautrec and even Raoul Dufy and Georges Braque.
Emile Baes started in the academic tradition, but rapidly turned to portraiture. He became above all the painter of female nudes, models posing naked, in a soft Impressionist style: the ultimate art for the boudoir or bedroom.